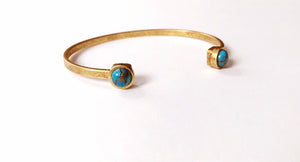 Wyldlu
Turquoise Cuff
Regular price
$26.00
$0.00
Feel the rhythm, adorn with oceanic blue hues. 
Turquoise is a spirit lifter, a restorer of faith, and a promoter of a life full of vitality, peace, and self-actualization. ✨
24k gold plated cuff, with antique finish, with two 6mm Turquoise/Copper Stones. 
Pairs beautifully with matching La Ola Ring, Stud Earrings, or any other Wyldlu bracelet.